A recent communication from the Social Security Administration (SSA) encourages recipients to sign-up for direct deposit, in an effort to capture the 1 percent that still receive paper checks.
The Direct Express® Debit Mastercard® card provides a means by which unbanked SSA recipients can receive their benefits via direct payment.
The link to the SSA blog post has been published on Facebook, Twitter, Linked-In, and Instagram.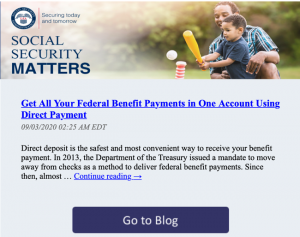 SOURCE:  Social Security Administration