Without a bank account, individuals and families face challenges in managing their day-to-day lives, which carry a significant socio-economic cost. First among these challenges is accessing their wages or benefits, which generally means converting a check, via a  check casher, into cash, often at a significant price.
Once this is done, making purchases or paying rent and utility bills is far from easy. It generally means payments must be made in person, which takes time away from work and family. It also rules out the use of convenient online or telephone payments that many others these days take for granted. Cash also makes budgeting and money-management difficult, and is especially susceptible to loss or theft.
This cash-based existence was the norm for many Direct Express® beneficiaries, 67 percent of whom have no bank account (according to a 2017 survey). Moving beneficiaries from paper checks to Direct Express® addressed these challenges instantly, leaving room for continued innovation that would enhance the utility and experience for cardholders.
Enhancements to the card's core utility have included the development and fielding of the popular PayPerks financial capability program, and the creation of a smartphone app.
Direct Express® Smartphone APP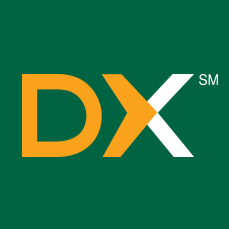 In 2018, it is estimated that 80 percent of Direct Express® beneficiaries own a smartphone. To financially empower our beneficiaries and give them safer, secure, convenient and portable access to their accounts, Comerica Bank launched the DX℠ Mobile App, developed and hosted by Mastercard®, in August 2015. Once app users register and choose a PIN code for security purposes, they can check their balances, view transaction details, confirm pending deposits, locate nearby ATMs and pinpoint free cash-back locations. Since launch, 64 percent of users report accessing the app six or more times in a month and more than 80 percent of users say they check their account balances on the app.
Click the icon to get the Apple or Android version of the Direct Express App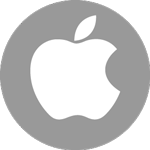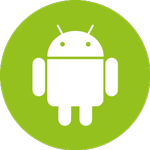 Cardholder Need and Direct Express® Feature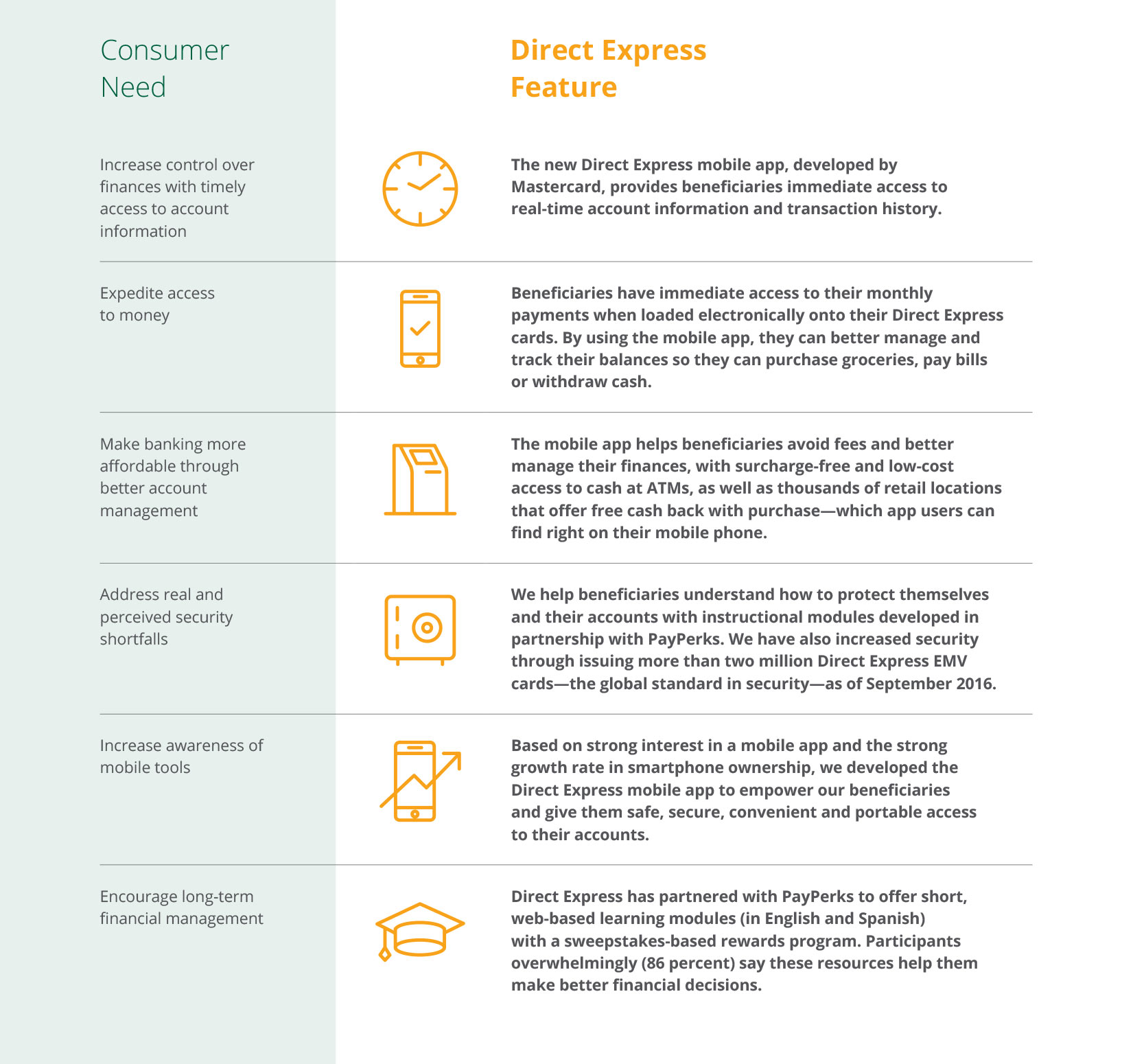 A Growing Program
As Direct Express® has evolved, the number of government agencies and programs utilizing it to disburse benefits has significantly increased, taking Direct Express® beyond just Social Security and Supplemental Security Income. Today,
eight agencies
and
27 benefit programs
use Direct Express®.
| | |
| --- | --- |
| Agency | Payment Type Description |
| Social Security Administration | Social Security |
| Social Security Administration | Supplemental Security Income |
| Railroad Retirement Board | Railroad Retirement/Annuity |
| Railroad Retirement Board | Railroad Unemployment/Sickness |
| Office of Personnel Management | Civil Service Retirement/Annuity |
| Office of Personnel Management | Civil Service Survivor/Annuity |
| Department of Labor | Black Lung |
| Department of Labor | Federal Employee Workers Comp |
| Department of Labor | Long Shore and Harbor Workers Comp |
| Department of Labor | Energy |
| Coast Guard | US Coast Guard |
| Treasury | DC Pension |
| Department of Defense | Defense Finance & Accounting (DFAS) Annuitant Pay |
| Department of Defense | DFAS Retired Military Pay |
| Department of Defense | DFAS Former Spouse Pay |
| Department of Veterans Affairs | Veterans Compensation and Pension |
| Department of Veterans Affairs | Veterans Education MGIB |
| Department of Veterans Affairs | Veterans Education/Selected Reserve |
| Department of Veterans Affairs | Veterans Vocational Rehabilitation & Employment |
| Department of Veterans Affairs | Chapter 33 - VA EDU Post 9/11 GI Bill |
| Department of Veterans Affairs | Chapter 35 - VA DEP EDUC ASST - Dependents Education Assistance Program |
| Department of Veterans Affairs | Chapter 1607 - VA EDUCTN REAP - Reserve Education Assistance |
| Department of Veterans Health Administration | Veterans Health Administration Beneficiary Travel |
| Department of Veterans Health Administration | Compensated Work Therapy |
| Department of Veterans Health Administration | Veterans Medical Research |
Continual Innovation
Direct Express® is constantly innovating to streamline the program and bring even greater utility to cardholders. Planned enhancements include:
Expansion of cash-back access
Incorporation of PayPerks "FoodSmarts" program, which learning how to shop smarter, use nutrition information to make healthier choices and cook delicious, affordable meals
Usage rewards
We will report on the progress of these various initiatives on directexpress.info