Overall Satisfaction Remains High at 92 percent.
 The effects of the ongoing COVID-19 pandemic have been felt around the world – and the Direct Express®program is no different. The pandemic's impact was reflected in the latest Direct Express® Cardholder Satisfaction Survey, with results showing the majority of cardholders – nearly 6 in 10 – have used their Direct Express® card for purposes related to the COVID-19 pandemic (see graphic below). Mobile app users are significantly more likely to have used Direct Express® due to the pandemic, particularly ordering more items online.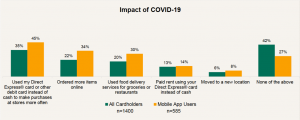 The survey also captured the fact that nearly half of all cardholders received an Economic Impact Payment or "stimulus" payment via their Direct Express® card, and that 9 in 10 cardholders were satisfied with receiving their stimulus payment on the card.

Overall Satisfaction
According to data collected in 2020, cardholder satisfaction remains high, with 92% of surveyed cardholders declaring themselves satisfied with the Direct Express® program.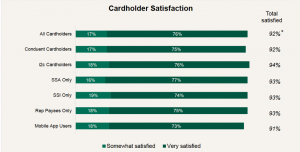 Awareness of Card Features
Awareness of the card's features has remained mostly consistent since 2019, but there has been a notable increase in awareness of the Direct Express® mobile app's capabilities, possibly associated by usage changes driven by the COVID-19 pandemic.
Cardholders are aware that their cards can be used to pay bills, shop online, and make purchases at grocery stores and other retail locations. Mobile app users remain more aware of the card's features than cardholders who don't use the app.

Background to the Survey

Every year, the Direct Express® program surveys cardholders on behalf of the Treasury Department's Bureau of the Fiscal Service. The survey measures the prepaid debit card's success where it matters most – with the cardholders. This research is designed to:

Track satisfaction with the Direct Express® card as a payment option
Uncover areas where lack of awareness might inhibit proper card usage
Gauge levels of card usage for specific transaction types (ATM withdrawals, purchases, cash back at point-of-sale, etc.)
Allow for a better understanding of how cardholders obtain and use cash
Test cardholders' financial education and potential new features that could be offered on the Direct Express® card; and
Better understand usage of, and satisfaction with, the Direct Express® mobile app.

The annual survey results are used every year to continuously evaluate how to improve cardholder awareness of the features and how best to use the card.  The results may also be used to identify future enhancements, when feasible.
The 2021 Direct Express® cardholder satisfaction survey will be conducted in the fall with responses analyzed in early 2022.
SOURCE: Direct Express®