Directexpress.info is honored to spotlight World Mental Health Day, which this year fell on October 10th. The World Health Organization (WHO) is the United Nations (UN) agency behind World Mental Health Day. The day is intended to raise awareness of mental health issues around the world and to mobilize efforts in support of mental health. According to WHO, World Mental Health Day,
"…provides an opportunity for all stakeholders working on mental health issues to talk about their work, and what more needs to be done to make mental health care a reality for people worldwide."
WHO announced a theme for 2023, saying:
"World Mental Health Day 2023 is an opportunity for people and communities to unite behind the theme 'Mental Health is a Universal Human Right' to improve knowledge, raise awareness and drive actions that promote and protect everyone's mental health as a universal human right."
WHO further points out that good mental health is vital to overall health and well-being:
"Yet one in eight people globally are living with mental health conditions, which can impact their physical health, their well-being, how they connect with others, and their livelihoods."
This is as true of the Direct Express® cardholder community as it is of any other group.
In fact, providing benefits for those suffering mental health and well-being issues is an important role of the Social Security Administration (SSA), and, of course, many of those benefits are distributed via Direct Express®. Six out of ten Supplemental Security Income (SSI) program recipients under 65 have been diagnosed with mental disorders. Forty six percent of Direct Express® cardholders receive SSI benefits.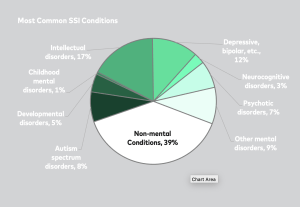 Fig 1: SSI Recipients Health Conditions
Though many benefit recipients with mental health disorders are more than able to manage their own finances through their Direct Express® card account, some utilize a representative payee. A recent post about representative payees is available HERE.
SOURCE: World Health Organization