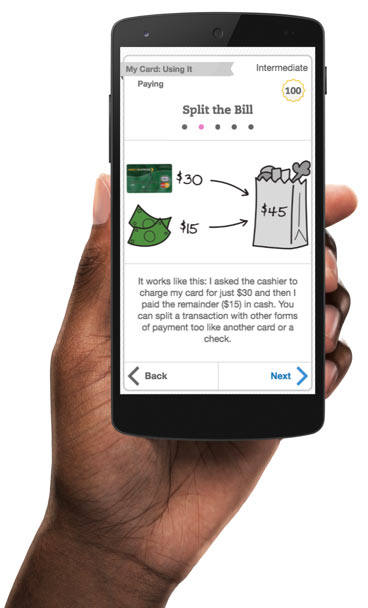 In April 2018 PayPerks delivered its 10 millionth financial capability educational tutorial, right on time for National Financial Capability Month! Tutorials are aimed at empowering cardholders by providing the knowledge and tools they need to participate fully in the digital economy.
PayPerks was introduced as an innovative card feature to the Direct Express® program five years ago.  It gives Direct Express®  cardholders opt-in access to a library of more than 100 different tutorials on a wide range of financial education topics. All of the content is available in English and Spanish, and PayPerks is specifically designed to work across a wide-range of mobile devices and with screen-readers and other assistive devices for those with visual impairments.
The PayPerks tutorials start with card basics such as what the different numbers on the card mean, how to use the card at point of sale, and what to do if the card is lost or stolen.  The tutorials continue with more advanced topics such as how to save on unnecessary ATM fees, how to pay bills online, and how to download and use the mobile app to check the card balance and view transactions.  The content library also includes more general tutorials on budgeting and saving, understanding consumer finance topics like credit scores, and managing privacy and security online. As a reward for successfully completing education modules, participants receive chances to win small cash prizes ranging from $1 to $50 in sweepstakes drawings managed by PayPerks. The cost of the program, including prizes, is funded by Mastercard.
For more information, visit our PayPerks section or the PayPerks website
Top 10 PayPerks Tutorials!
What's So Great About My Card?
– See why your Direct Express® card is better than cash
Say Bye to Overdrafts!
– See what a great deal your Direct Express® card is
Anatomy of Your Card
– Get to know your Direct Express® card front to back!
Know Your Fees, Pay With Ease
– Learn what money goes onto your Direct Express® card
Get the Direct Express® Mobile App
– Just released! Here's how to get it
Using the Direct Express® App
– Now that you've downloaded the app, let's see what it can do!
Where Can I Use My Card?
– Learn all the ways to pay and get cash with your card
Keeping My Card Alive
– Expiration dates—revealed!
Take Charge: Card Alerts
– Learn about deposit notifications and low balance alerts
Show Me the Balance
– Learn how to check your card balance online