A large majority of Direct Express® users are unbanked, and have limited familiarity with credit cards, debit cards and other financial products.
The Direct Express® team sees education as a critical part of its mission. Its goal is to give beneficiaries the knowledge and the confidence to manage their financial lives better by taking advantage of the features and benefits of the Direct Express® program.
Accordingly, we engage in extensive outreach and education through multiple media—direct mail, email, text messages, the usdirectexpress.com website, the PayPerks education modules and surveys, the mobile app, social media like Twitter, our annual beneficiary satisfaction survey and other reports— to help beneficiaries understand and take advantage of all the services and opportunities they can access.
As the graphic below indicates, these outreach efforts have been very effective—especially among the fast-growing population of mobile users—although we continue to renew and improve our education campaigns with the goal of achieving even greater awareness of card features among all Direct Express® beneficiaries.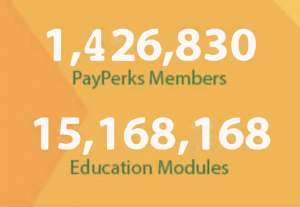 Expanding Financial Knowledge with PayPerks
In order to engage beneficiaries and improve their financial health, Comerica Bank and Mastercard® partnered with PayPerks®, an innovative financial learning company that combines short learning modules (available in both English and Spanish) with a rewards program.
Beneficiaries can access the PayPerks® platform from any computer or mobile device that has internet access. The combination of education and rewards helps beneficiaries learn how to access all the valuable features and benefits of their Direct Express® cards, while learning how to use the cards in ways that minimize fees and maximize convenience.
The program has had a positive impact on participants' awareness and behavior. PayPerks® participants are significantly:
More aware that they can make purchases using the card without incurring any fees
More aware that they can make purchases over the internet
More likely to have made purchases online
More information on PayPerks is here.