Unbanked individuals face disadvantages such as limited access to financial services, increased costs and inconveniences, and a lack of financial security. In a recent resolution, the National Hispanic Caucus of State Legislators (NHCSL) recognized that "certain demographic and socioeconomic groups like Hispanic Americans, African Americans, and the impoverished, are disproportionately affected by" these disadvantages, and ratified a resolution to encourage electronic payments for the unbanked.
Access to electronic payments, the resolution notes,
"…creates opportunities for increased financial capability for unbanked populations, bringing them closer to the benefits of the financial mainstream, with high levels of convenience, safety and reliability when compared to cash or paper checks, and chart a path to credit-building."
The resolution, which was unanimously ratified in December 2019, further noted that since 2011 the federal government has made available the Direct Express® Prepaid Debit Card to 4.5 million beneficiaries, and said that the program has,
"… radically increased financial capability for this majority unbanked population, while saving the federal government millions of dollars annually."
The resolution also "applauded" programs such as the Direct Express® for the work it is doing in the area of financial capability.
The resolution stated that a copy of the resolution be transmitted to the President of the United States, the Vice President of the United States, members of the U.S. House of Representatives and U.S. Senate, and other federal and state government officials as appropriate.
The text of the resolution is below.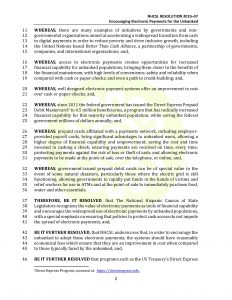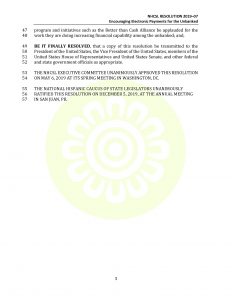 SOURCE: National Hispanic Caucus of State Legislators