Social distancing and other important preventive measures in our everyday lives have affected the way we handle average financial transactions, even for basic necessities like buying groceries and paying bills.  Adjusting our approach to purchases and other financial activities so we can manage these new realities can be challenging. Direct Express® gives cardholders a cashless, safe and easy way to manage their money. Cardholders can make purchases and pay bills without leaving home!
The Direct Express® Card can be used just like any debit card to pay at stores, online, or over the phone. The card makes it easy to manage finances, particularly during the COVID-19 pandemic.  Cardholders can use the card to purchase necessities and pay bills online without leaving home, lowering their risk of contracting the virus.
Paying with Direct Express® is faster and more convenient and safer than using cash.
Direct Express® can be used to pay bills, shop online, and even transfer money to friends or family.
With Zero Liability Protection, cards are protected against unauthorized transactions and purchases.
SHOPPING IN PERSON
 All Direct Express® cards have embedded fraud prevention chips making shopping in person at stores cashless, safe and easy.
At chip-enabled terminals, cardholders should insert their card with the chip towards the terminal, facing up. Cards should not be removed until prompted.
Once the transaction has been processed, cardholders might have to sign or enter a PIN when requested, to complete the payment. Some transactions may not require either.
Terminal instructions should be followed to complete the purchase.
If a non-chip terminal is used, Direct Express® can be swiped, using the card's magnetic strip.
Direct Express® also enables the use of reputable third-party payment apps such as Apple Pay or Google Pay.
MAKING PURCHASES OR PAYING BILLS ONLINE
 During the COVID-19 Pandemic, shopping online or over the telephone has been the safest way to pay bills and order essentials.
Cardholders making purchases online should check the website address of the site they are using starts with "https" instead of "http" and shows a security icon displayed in the left corner, such as a "closed lock" or "unbroken key" (See Fig. 1, below)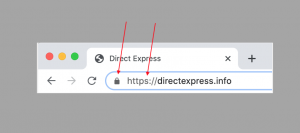 Fig. 1
To make a purchase, cardholders should enter their name, 16-digit card number found on the front of the card, expiration date and card security code (CVC – 3-digit number on the back of the card), home address and all other requested information (see Fig 2, below)
Choose the "credit" option (not the "debit" option) to pay.
Finally, cardholders should review the transaction summary and click submit or purchase.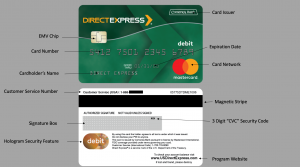 Fig. 2
SOURCE: DIRECT EXPRESS®