The Federal Deposit Insurance Corporation (FDIC) recently released its 2021 Annual Survey of unbanked and underbanked households, which shows an estimated 4.5% of U.S. households (approximately 5.9 million) were "unbanked" in 2021, meaning that no one in the household had a checking or savings account at a bank or credit union.
This means that the unbanked rate in 2021—4.5 percent—was the lowest since the survey began in 2009 (see graphic below).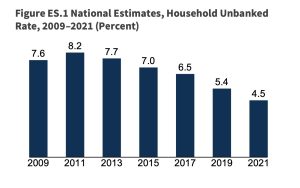 [SOURCE: FDIC]
Between 2019 and 2021, the unbanked rate fell 0.9 percentage points, corresponding to an increase of approximately 1.2 million banked households.
The survey further notes that unbanked rates in 2021 varied considerably across the U.S. population. For example, unbanked rates were higher among lower-income households, less-educated households, Black households, Hispanic households, working-age households with a disability, and single-mother households.
These findings by the FDIC are consistent with the findings of the Direct Express® Annual Cardholder Satisfaction Survey.  This survey showed that seven out of ten cardholders are unbanked, however, the number of banked cardholders has increased significantly, from 18% in 2014 to 29% in 2021.
The FDIC survey was conducted in June 2021, in partnership with the US Census Bureau and collected responses from more than 30,000 households
To review the survey and download a PDF version, visit:
"National Survey of Unbanked and Underbanked Households"
SOURCE: FDIC