Guest post by Jake Peters, Co-founder & CEO of PayPerks, the startup behind PayPerks for Direct Express®. 
The Direct Express® prepaid debit card program is used by more than 4.5 million underbanked Americans to receive federal benefit payments electronically. The program has many benefits, such as providing a safe, convenient and reliable way to deliver payments, enabling cardholders to access the financial mainstream, and eliminating the costly inconvenience of dealing with paper checks. Since many cardholders are unbanked and unfamiliar with electronic payments, it's not surprising that one of the program's most popular features is PayPerks for Direct Express®.
PayPerks for Direct Express® is an important incentives-based rewards program that provides cardholders with a financial education toolkit – including training modules, lessons, and tutorials – to help them get the most out of this program. Since April 2013, cardholders have participated in more than 14 million PayPerks educational tutorials, equipping them with information on a wide range of topics, such as how to best use their Direct Express® card, money management, financial privacy, and account security.
I've spoken to hundreds of Direct Express® cardholders who have used the PayPerks program and they all share a common sentiment: the financial capability education provided by PayPerks has helped them improve not only the usage of the card but also their ability to manage their finances. This type of financial material is invaluable to Direct Express® cardholders, as many of them don't have bank accounts and lack access to this type of information elsewhere.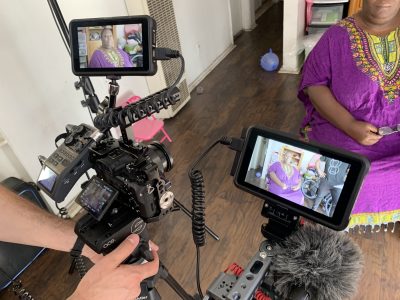 Over the past few years, we've been traveling the country and meeting with cardholders to help spread the word about the PayPerks for Direct Express® program. We've previously documented the stories of Dawn in Tacoma, Washington and Ray in the Poconos area of Pennsylvania to learn firsthand about their experiences with the program.
We recently spent a few days in the Los Angeles area where I met with five cardholders: Helen, Don, Pieter, Chase and Sharon. Each has a unique story to tell and each has found the PayPerks for Direct Express® program to be extremely useful. We wanted to share a sneak peek at one of the people we met with on our trip.
Sharon is a 51-year-old mother and grandmother who is currently studying for her undergraduate college degree in Psychology. She receives disability benefits through the Direct Express® debit card program. Below is a segment of my discussion with Sharon, lightly edited for clarity.
How did you get started with the Direct Express® card?

When I first got my Social Security benefits it was either you had to have a bank account, or you had to get Direct Express®.  I chose Direct Express® because I don't trust the banks. After getting Direct Express®, I was pleased because it helped me to manage my money a little better.

Do you remember how you found about PayPerks for Direct Express®?

I think I was playing around on my phone one day and it popped up in my e-mail. And I opened it up and it was connected to Direct Express®.  It was asking me to do a survey.  And I've been doing it ever since.

And you like doing the tutorials?

I love it.  I love doing the tutorials.  They're very helpful.

What was something you learned that you didn't know before?

I learned how to manage my money, how to identify theft, how to know when you're being scammed.  Howto not give out your personal identification over the phone.  How to just be secure with your personal information.

You mentioned managing your money.   Are you talking about like making a budget to have money left over at the end of the month or…?

Yes! I was a shopaholic.  I'm not going to lie.  When I was working, I used to get off work and just shop.  But now I have to see where my money is going.  And at first I wasn't, you know, when you're out shopping you really don't care or really pay attention to where your money is going. But now I'm more alert so I'm really planning every month.

 Have you won any PayPerks prizes?

Yeah, just a dollar here and there.  But it's fun.

How do you feel when you win a dollar?

Great.  I mean I'd be like "Yeeaaah! I won, I won!"  But it's just the thought of winning something that's just — you know what I mean.  You never know. A dollar adds up and helps with expenses.  But it's not about winning, it's really about learning and that is what makes it more fun.

If someone didn't know anything about managing money, and they asked you for advice, what would you tell them?

Sign up for PayPerks because that'll teach everything that you need to know, it really would.  Because I'll be 51 in a couple of weeks, and I'm telling you, I would have never known some of the things that I know now.  Like I said I was a shopaholic.  I would have never known how to manage my money. But I am now sitting down every month budgeting and making sure that once my bills are paid that I do have money left over for emergencies and…you never know what might happen in the future.  That's important now.
The full video interview with Sharon will be published here in the near future. We will continue to travel around the country meeting cardholders over the coming months, so stay tuned for more interviews with Direct Express® cardholders who use PayPerks to expand their financial education.